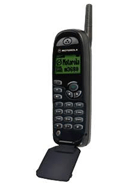 please kindly send me the full photo of M3688 to see it more clear cos i'm interseted in this mobile and it's options.
We are looking for large q'ty M3688
Please send me your offer lmmediately.
e-mail: hanarousa@hotmail.com
Helo
Could You send me new BIOS to this Phone
The Phone is ok but i don't with him a clock
Sorry for my language.But I little(low) know English.
Thank You
Good Bye

Could you please send to me operating instructions for phone "Motorola" M3688?

Thank You!
Total of 32 user reviews and opinions for Motorola M3688.