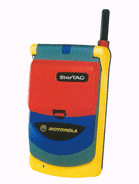 This phone is so CUTE! If I didn't already have a great cell, I'd hunt this down on eBay...
Do u believe i actually had this phone??? But i kinda like it. Very funky and cheerful lookin. Everytime i use it in public, every1 thought im mentally disordered person hus escape frm the mental hospital talking on this 'TOY'! But still, i have it with me.
how about the price? i can`t find it anywhere but i want to buy it. Can you help me?
Thank you
I have a brand new boxed ex display model for sale -- if anybody is interested !
I wish I could have a startac rainbow, but I have no access to purchase it, because it is an old model, I love to have one,
Can anybody help me to buy one?
OH MY GOD what a purely horrific phone. I don't think I've ever seen anything as scary in my life. No matter how good this phone was, no redeeming factors could win you over from the colour!!!!! My Eyes are bleeding!
i love the phone , infact i have one myself but i've misplaced my manual that came with it . i will be glad if you can help me out with it. thanks
it's nice but i want to order for it but do not know how to do it.
please,send me a mail telling me how to order.
it's really cool. lovely colours. quite funky really. who could say aney thing bad about it
Total of 174 user reviews and opinions for Motorola StarTAC Rainbow.