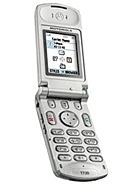 nice phone, but could be better. verizon should elect some the features such as (styles) that the nextel i95 has. motorola should also consider placing a louder earpiece like the ones on nextel phones. it is hard to hear a conversation in rush hour traffic or in most noisy outdoor places.
Just got my T720 few days ago. Excellent features & price is acceptable RM1300 in Malaysia. Samsung T100 has better colour, battery standby time only last for 80hrs, ringing tone volume too low, ear speaker not so clear.....Overall: still worth to buy!!!
Batter life really stinks. It does not apear that actual battery life is anywhere near published batter life.
i GET 15 MINS TALK AND 8 HR STBAY, and batter is almost gone.
S
Great phone...bought it at US$300, 1 week old. No plans and no subsription. Like the big screen, menu a bit slow, good body feel. In general, this is one hell of a good clam-shell phone.
This is a great phone with two exceptions battery life is not very good not even close to what it is rated. standby is b hours at best on the one I just returned, there appears to be a problem with the battery charge firmware. My phone has locked up 3 times after comming off the charger requiring the battery be removed to reset the phone. I had the phone replaced at Verizone today and we will see if this resolves the issue or I will have to wait until the new firmware comes out. Shame is the quality of the phone seems very high, voice and sound quality are high screen could be a little better in daylight. Something like the new HP IPAQ. Little high on price also.
I've had this phone for a while now ordered it from www.extele.com. Its not a bad phone at all. the only thing is the downloadable ringtones are too low, The color screen isnt the best (but motorola to have another phone with a really good colour screen), sometimes accessing the menus is a bit slow. Apart from these things (which are all minor) its one of the best phones i've ever used. Well Done Motorola. Looks like motorola are finally tried to regain the tag of "NO 1 mobile phone manufacturer" from NOKIA, quicker than expected.
Ik just got it 3 days ago and i love it the 4096 color display is so cool and u van use SE T68 wallpapers on this phone to.
Also the games mentions on this page are wrong the games included are all java: Tetris,Breakout and MotoGP whitch is verry verry cool.
I also read that there will be a mp3 player set available and also interchangeble back and front covers.


Total of 155 user reviews and opinions for Motorola T720.