New Samsung W2014 flip phone runs Snapdragon 800 processor
After the Galaxy Golden, Samsung has announced a new high-end Android-based flip phone, called the W2014. Samsung has partnered with China Telecom to make this handset for the 'Heart of the World' charity concert.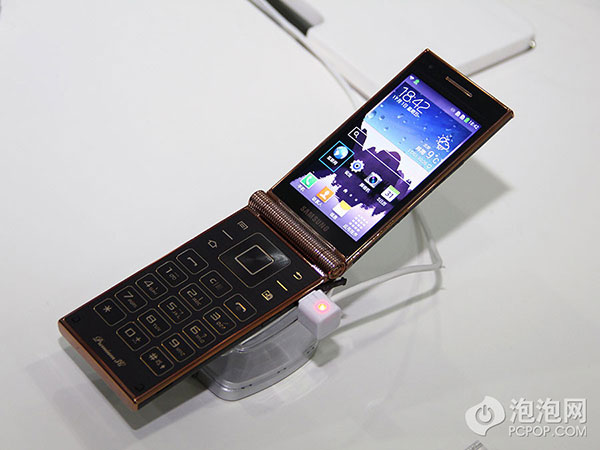 The W2014 is the fastest Samsung flip phone (and possibly the fastest flip phone, in general), with a 2.3GHz quad-core Snapdragon 800 processor under the hood, along with 2GB RAM, 32GB internal memory (with microSD card slot), 13 megapixel rear camera, 2 megapixel front camera, Wi-Fi 802.11 a/b/g/n/ac, Bluetooth 4.0, 1900mAh battery and Android 4.3.
The W2014 has dual displays, just like the Galaxy Golden, with a 3.7-inch 800x480 resolution Super AMOLED panel on either side of the flip.
No price or launch date has been announced so far but be certain that it's not going to be cheap.
i'm anti-Samsung actally, but my husband is a samsung super fans... even hp, refri, washing machine, all is samsung brand... @~@.. i love this flip phone because i m looking for a big screen + touch screen + flip phone for my mum... awaiting!!!
Please.. Flip phones are phones of the past. Have some mercy.. Just let them go.. Create something futuristic.. Samsung. Go forward and progress..
i would just go 4 a flip phone with a decent os that DOES NOT LAG cause flip phones just look cool... honestly, who would buy a flip phone 2 play high end games or watch videos in the least...what can u really get out of a small sceern