HMD relaunched Nokia in the mid-range and has been expanding down towards the entry level. Currently, the Nokia 3 is the most junior smartphone in the lineup, but a Nokia 2 has been sighted several times.
Geekbench detected a Snapdragon 210 chipset (or 212, differences are negligible) with a single gigabyte of RAM – half as much as the 3 has. It does run Android 7.1 Nougat, so no compromise has been made on the software side. Storage was not detected, but we think 8GB is a good guess.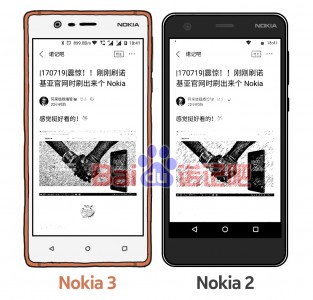 Since we're making guesses, we'd say the price of the Nokia 2 will be €100 – right between the new Nokia 3310 (€50) and the Nokia 3 (€150).
Thanks for the tip, Anvin!
Hm... so what would be the lowest specs allowed in 2017? a good guess would be S425/2/32 (formation is chip/ram/Storage)
I never comment online but had to reply when I saw this one! Stock ROM is garbage. Android is garbage. Unfortunately its become a necessity if an OEM is to survive. Of course, that doesn't mean that concerns about bloatware are unwarranted. There...
Here in my country, a local brand entry level smartphone named Andromax A (2016) shares the same specs for only 650K IDR (approximately 55 USD). It runs stock rom yet all it can do is laging all the time like crazy, battery drains and heats up! It's ...