Starting today, Nokia is rolling out the Belle FP2 update its last generation of Nokia OS phones. The Nokia 808 PureView is getting a good deal of exclusive imaging and gallery features, while the 701, 700 and 603 are getting the same update sans those extras.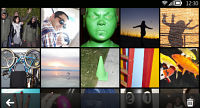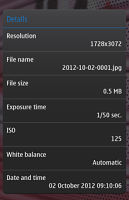 Nokia 808 PureView got updated to Belle FP2
Here's the change log for Nokia 808 PureView's camera and gallery features:
More information about your images, such as image resolution, ISO value, white balance setting, and file size, and the location. When you are connected online, one click will show you on Nokia Maps where the photo was taken.
New reset button in Creative mode to change all the settings back to default with a single touch
Gallery Grid view when you have the phone in landscape
Select and delete multiple photos in Gallery Grid
Access to more functions when you open your images from the Gallery widget on your home screen – swipe through other images, zoom, share, edit, and send images faster.
A video editing app called Video Pro is also included in the FP2 update.
The rest of the new features, which will be shared by the808 and the other three, include an updated browser (version 8.3) with better HTML5 support, a "new and significantly faster keyboard" and Nokia Car Mode.
The update is rolling worldwide, but as usual there might be delays specific to a given country and the different carriers. To check if the update for your country/operator is ready, you can use the phone's Software Update app or you can hook up your phone to your computer and use Nokia Suite.
i can't access video editor on my 701 fp
i too have a 701 and I updated my phone to fp2. It looks like it gave more improvised options. But at same time it lacks more. I can't access video editor expect for videos taken by me. No multiple selection in gallery for sending photos. I can't use...