HMD has been keeping a rather low profile when it comes to the Nokia line and its future. Even so, we are already pretty certain that there is at least one flagship to look forward to - the Nokia 9 (previously Nokia 8) - a Snapdragon 835 taunting beast, with an alleged price of EUR 750.
That is pretty steep - up there with the pricier of 2017 flagships. Still, a recent GeekBench leak offered a glimpse at what is shaping up as a real powerhouse. And now a new listing paints and even more impressive picture of an "Unknown Heart" Nokia model, with a whopping 8GB of RAM.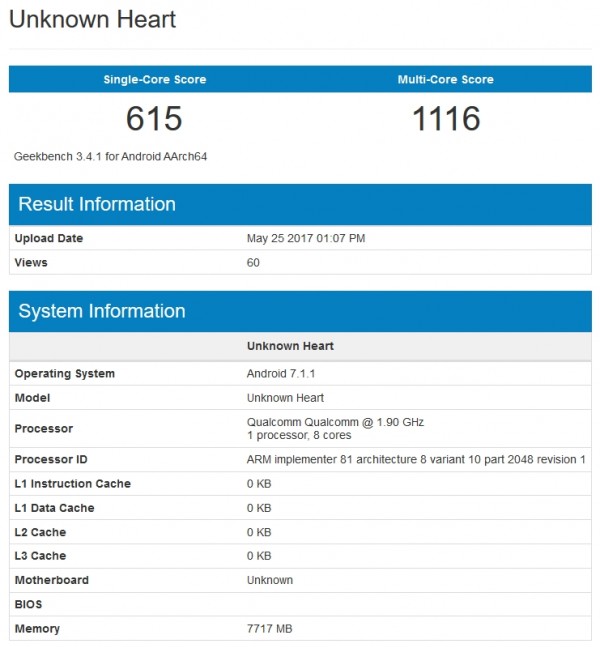 We won't go into the whole specs debate, over whether so much RAM is even useful in an Android handset, but we will note that the "ARM implementer 81 architecture 8 variant 10 part 2048 revision 1", reported by the Benchmark, is definitely the Snapdragon 835 chip. Thus, we are fairly certain we are looking at the Nokia 9 or TA-1004.
As per another leak, we currently believe the Nokia 9 will come with a 5.3-inch QHD display, 64GB of storage, a dual 13MP main camera setup and apparently, 4GB or 8GB of RAM.
5.3" ?? At least have a PRO version for bigger screen size like 6.2" Thinner bezel or Bezel-Less is a definite must for flagships
If it's a very early than yes, otherwise NO. If fake...thats a different story
"This new company is as much Nokia as I'm my great grandfather. They have more in common with lowly Chinese companies and startups... Heck it is a startup, nowhere near the depth of old Nokia with its 100 years + of continuous history." So you m...