Nokia Lumia 1820 to have QHD screen, Snapdragon 805 chipset
We've been hearing about a Nokia Lumia 1820 for a bit now, but here's the first concrete evidence – a Windows Phone 8 device under the name Qualcomm LiQUID hit the GFXBench database.
The device was powered by Snapdragon 805, which uses new CPU cores (Krait 450) and a new GPU (Adreno 420).
The detected resolution is an odd 800 x 1,422, but that's higher than the 1280 x 720 reported by the Lumia 1520. Given that Nokia's current flagship has a 1080p screen, the Lumia 1820 might come with the only currently availble higher display resolution - QHD or 2,560 x 1,440 pixels. The upcoming Lumia 1820 has already been rumored to have a 5.2" QHD screen and in this case the discrepancy in the resolution can be explained by the early state of the software.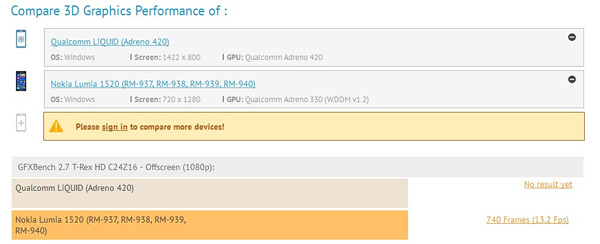 The Microsoft BUILD conference starts later today and we expect to see Windows Phone 8.1 debut, probably accompanied by the Lumia 630. The Lumia 930 may be left for a later event and the Lumia 1820 is perhaps too far off from being market ready to be announced today.
Lumia always best in photo & video performance and its os smoothness. lumia 1820 with its outstanding feature can beat android & iOS.
I like Nokia, if Nokia is coming up with the latest lumia 1820 with Snapdragon 805 processor paired with 3GB of RAM, and 5.2-inch screen sporting a 2K pixel resolution backed by a 3400mAh battery alongside a 32GB expandable storage and with 25 to 30 ...
if nokia lumia 1820 are true...make is fast to release that model