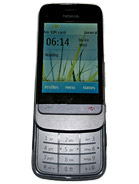 5
everything is good with this phone, only 256k color resolution is a weakness. It sould have 16m.
hi friends buy this phone its cool and good feathures like wlan,3g,32 gb memmory,5 mp camera with flash 2.6 inch screen
Ufff....the same specs...nthng special...i would recommanded every nt 2 buy this coz it luks worser den da old 1....dnt go 4 this....
no different with nokia x3 touch and type!!!
i more like the old from this one..
bcause the design look like ild fasion..
what excatly this phone???
are this phone same with nokia x3 touch and type ?

Will this phone be released or will it be just another disapointment again, need more info on this ASAP. I hope its not as small as the touch n type now that certainly made for ladies. If this is similar to the b/b torch but not as bulky n weighty with 3G n business like you'll have something good. At this time like others I'm about to give up on Nokia, which has been the only mobile I have ever used! I'm now looking at the HTC ChaCha, a slider like this wood be awesome!
I think this phone will be called C3-02 Touch and Type. Maybe the screen state is about 2.6 or 2.8 inches, with Wi-Fi b/g/n and Bluetooth 3.0. I hope it will become a big hit!
2034
Well design i think its better than X3-02 and C3-01 But Nokia should launch this phone within 2 months
Total of 35 user reviews and opinions for Nokia X3 Touch and Type S.