Unsurprisingly, the summer lineup of the Japanese carrier NTT Docomo includes the high-profile Samsung Galaxy S III. What caught our eye, however, is that the Japanese version makes use of a dual-core Qualcomm's Snapdragon 1.5GHz processor (MSM8960) much like the LTE-equipped HTC One X for AT&T US and the One XL.
Another interesting fact is that the Samsung Galaxy S III (SC-06D) is listed as having 2GB of RAM. The only other smartphone we know to come with similarly gargantuan amounts of RAM is the LG Optimus LTE2.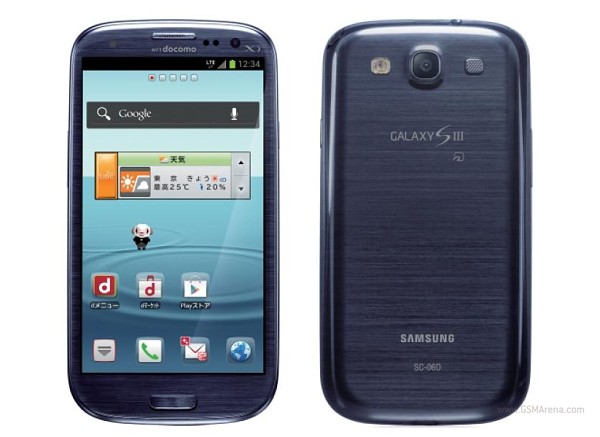 Unfortunately, the change in chipset has brought about a change in thickness as well. The Galaxy S III (SC-06D) is 9mm thick instead of 8.6mm. It's not a big deal, but it's the sub-9mm thickness (among other things) that sets apart the latest batch of high end smartphones such as the international S III, the HTC One X, or the Optimus 4X HD.
The other specs of the Samsung flagship remain the same - the 4.8-inch HD AMOLED screen, the 8 megapixel camera, the microSD slot, the 2100mAh battery and even the color options - Pebble blue and Marble white.
While the news about a Japanese-only model might not be that exciting, it allows us a sneak peak of what Samsung is preparing for the North American market, where LTE connectivity is a must for a high-end smartphone. So far Samsung has not revealed detailed specs for a US model, so we've been in the dark as to what to expect on that front even though recent evidence suggested Verizon's Galaxy S III will come with the same Snapdragon chipset.
Fear not, our latest benchmarks on the US-spec'd One X show that the dual-core Snapdragon is a nice match for the quad-core Exynos.
Galaxy se sc06d ntt docomo why write on back made by korea and not update software Please advise us
yes you can install 4.1.1 on your s iii sc-03e but there is nothing any improvement, i have downgrade my phone from 4.3 to 4.1.1 but there was same battery timing. you can do it from sammobile.com
How can i use my USB data connection?of my USB SC-06D phone is it not working??