If you are in India and have been waiting for the 128GB variant of the OnePlus 3T smartphone, you'll be glad to know that the model is currently listed on Amazon's India website. The device carries an INR 34,998 price tag, or around $520.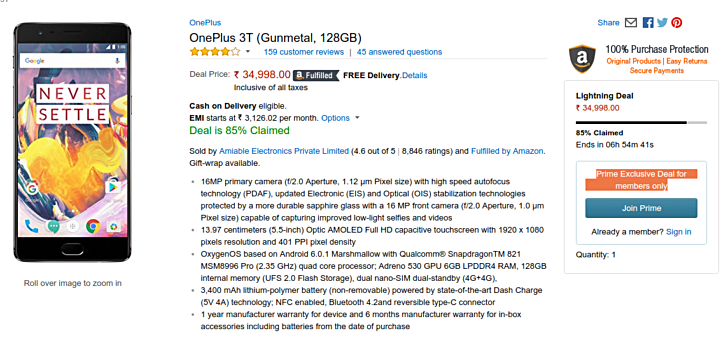 What's, however, worth mentioning here is that in order to make a purchase, you should be a member of the retailer's Prime service. Also, it's only a one-day sale - as of writing around 7 hours were left. The model will be available to all Amazon customers February 25 onwards.
If you are an Amazon Prime member, head to the Source link below to purchase the model.
unless you Use a Huawei mate series or P series, I have used all three, and even samsung is far better than 1+, Even Honor is far better than your 1+. First Use all the phones before you comment
ignorant, this is a great phone, but you don't argue when you spend almost 1000 for a crappy Huawei or Samsung phone
The price is a bit higher than usual, but OnePlus 3T is regarded on of the best SD 821 flagships....