Oppo Find 7 with 5" 1080p screen, Snapdragon 800 to cost $700
Oppo is working on an upgrade for the Find 5 called Find 7. Despite the name, the new handset will keep the 5" 1080p screen of its predecessor.
However, there will be big change under the hood as the Find 7 moves to Snapdragon 800 with four Krait 400 cores running at 2.3GHz. The phone will launch with Android 4.2 Jelly Bean, most likely with customizations similar to those the Oppo Find 5 got.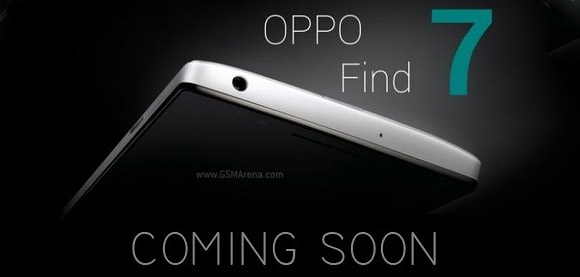 The Oppo Find 7 keeps the 13MP camera, but updates the front-facing camera to the whopping 8MP resolution. The internal storage is fixed at 32GB. The phone is a millimeter thicker – 9.9mm – but the battery has been bumped to the impressive 4,000mAh (up from 2,500mAh).
This info may not be 100% reliable as it comes from OppoMart.com rather than Oppo's official site. Still, the Oppo Find 7 is listed at $700 on pre-order, but there's no exact launch date info just yet (all the company said was not this September, but some time after that).
Update: Oppo got in touch with us and clarified that the specs of the Oppo 7 are yet to be finalized. This means that the ones listed above are not yet confirmed to make it to the final device.
The price may seem a bit steep when the Galaxy S4 is $630, but remember we're talking Snapdragon 800 vs. 600. It's not clear if and when the upgraded Galaxy S4 will go international.
Thanks to Santosh Savanur for sending this in!
but it still doesn't compare to the 4000 Mah battery
oppo find 7 Card slot no vs s4 Card slot 64g GB up win
Some of you are thinking that OPPO Find 7 will beat the crap out of the S4, but unfortunately there is a version of S4 with Snapdragon 800 and LTE-A network. AMOLED surely makes our eyes tired but it made SAMMY devices that thin with changable batter...