Oppo N1 Mini announcement date set for May 30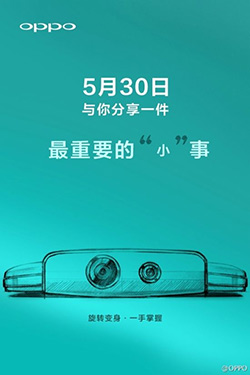 Using its Weibo account, Oppo officially unveiled the N1 Mini announcement date. On May 30, the Chinese company is going to reveal to the world a mini version of its Oppo N1 smartphone that'll sport the same rotating camera module as its bigger brother.
Initial rumors suggest the Oppo N1 Mini would sport a 5" display (we guess 720p resolution), which makes us wonder if Oppo got the "mini phone" memo right. Anyway, the phone could launch with one of two octa-core chipsets - either the MediaTek MT6592 or the Exynos 5422 Octa SoC.
Finally, Oppo will release both an LTE-enabled and 3G HSPA versions of the N1 Mini. Interestingly, the company has ditched the two LEDs next to the main camera in favor of just one. We anticipated the N1 Mini to arrive with a microSD card slot and an O-Touch back panel.
We should receive more information on pricing and availability in a few days as the company announces the Oppo N1 Mini.
Atleast one smart person is here. Mini means small, not a specific size. The mini will be smaller than the original so size depends on the initial product the mini derived from
this should not be 5" phone... ideal size now a days is 4.5" to 4.7" for mini.. i deal price is $200 for mini.. there should be competition between companies
The N1 is a 5.9inch, their mini at 5inch is just okey, dont compare it to minis of samsung and htc.