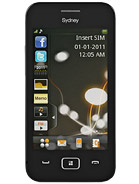 H
I want to install Java but I don't know how. Could anyone find their time to help me?
H
I love the phone but the thing is that I wnat to buy a silicone case with it but I don't know where they sell it. So would anyone like to help me?
m
predictive text does'nt seem to work and it is activated but not forming words
?
I think the phone looks great! I'm saving up with my pocket money to get it and I can't wait! My current phone is an Alcatel OT-708, its a great phone but now its to small for my fingers!
c
One of the worst phones EVER! I have had this phone for nearly a year and have had it replaced by orange 15 times so far. Its a really cheap phone so only buy it for technology dinosaurs...
R
A very cheap phone, very limited internal space, can barely install any java apps (due to FB and Twitter consuming at least 60% of its capacity). Touch screen is 'Average', using Calibration in settings helps. Limited storage for music/pictures/videos (24mb).

Yes, a cheap phone...but don't we know it after using this phone.

"Read the first comment, about having 7 of these phones... it made me laugh due to it's sarcasm"
?
ladies man, 13 Aug 2012this phone is the worst ive ever had, the touchscreen is slow when you've had it about two mon... moreWhat do you expect from a cheap phone. dumbest comment I've seen someone say about a phone, it's not like your going to get a super fast cpu, or Android OS.
s
actually i have the touch screen Sydney mobile which belong to ZTE company but the touch sensor is not working now. i need to replace the touch screen sensor . By the way i am Sulav Adhikari from Nepal. Please mail me at sulav_2005vets@yahoo.com how can i get touch screen from the company
l
this phone is the worst ive ever had, the touchscreen is slow when you've had it about two months, you can't watch youtube, there is no qwerty keyboard for texting, its not a smartphone, an all round joke for £50.
H
I don't understand the other comments, maybe I got a defective phone, but here's my experience.
The touchscreen is alright, it's got a decent photo editor and, for it's price range, a decent video camera and the interface looks very good. But that's where 'good' stops.
It's horribly slow. When it comes to java apps, I know of no phone cheaper or more expensive that's as slow as this. Texting is also very very very slow. Once you press a letter you have to wait about 0.5 seconds before pressing another, not an exaggeration. Battery life is a day without WiFi or Bluetooth.
WiFi is useless, when it works it's too slow to be worth it.
The speaker is very quiet, inaudible in public places. Message tones cannot be customised and all the presets (only ones you can choose) are long, annoying and nothingy.
Mine started freezing at regular intervals after 10 days and shortly after the touchscreen broke and the colours went strange. I no longer have it. Use your sense, spend less and get a better phone.
I'm well aware I should be constructive rather than just criticize, but I am finding it very difficult with this phone.
e
this phone is the best phone ever for the price well....OMG i would recamend it to evryone at all agesevrything is perfect in everyons exprience i love it love it sooooo much brilliant if your thinking about getting the phone well get it it will be the best thing you have ever done trust me BEST PHONE EVER CHEAP PRICE PERFECT!!!
s
used to own one of this basic handset .
ringtone / message tone very quiet even at full .
otherwise ok phone .
Total of 55 user reviews and opinions for Orange Sydney.