Original HTC Butterfly to get Android 4.4 KitKat shortly
HTC has confirmed on its official Facebook page that Android 4.4 KitKat update for the original HTC Butterfly is in the works and will be released soon.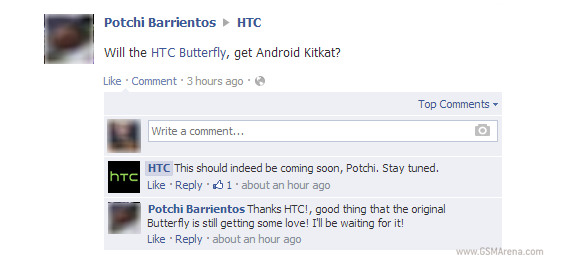 This is the only information HTC has given as an answer to a Facebook question. We know more though thanks to a previously leaked roadmap.
Earlier today we got a nice table spilling the beans on HTC update plans for lots of smartphones. There HTC Butterfly is listed for Android 4.4 + Sense 5.5 firmware update. This means the Butterfly, unlike Butterfly S, won't be getting the latest Sense UI 6.0. If you want to know more about the latest HTC launcher, you should check our HTC One (M8) review.
Thank you, Ronan, for the tip!
My HTC butterfly already has android 4.3 with sense 5.5 ui So the sense 5.5 is no new update. They should update it to sense 6.0. It's still a 2013 phone. It's only the droid DNA that is 2012.
As for updates on their newer phones HTC has been killing it...bringing updates sooner then anyone else (of course besides Google/Nexus powered devices). I know promises can be broken but HTC has guaranteed 2 years of updates to their newer devices. ...
Updated butterfly S but some bug are there.. still find only 2. which is very sad..