Original Samsung Galaxy J7 running Nougat again spotted on WFA's website
It was June this year, when the first-gen Samsung Galaxy J7 with Android Nougat on board was spotted on the website of WiFi Alliance. Over a couple of months have passed, and the update is yet to roll out.
Now, the device has once again appeared on the agency's website, with the listing revealing Android 7.0 this time as well.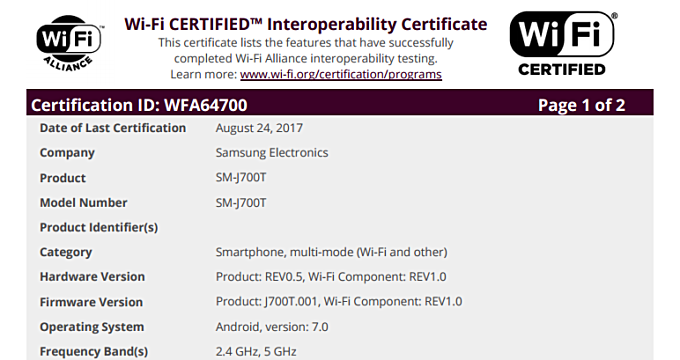 It's clear that Android 7.0 for the phone is being tested. However, what's not clear is exactly when the update will be pushed out. Getting WiFi certification doesn't necessarily mean roll out is imminent, but it does indicate the update is in pipeline at-least.
WiFi Alliance already certified the J700T and J700P. I think its a matter of time now ... though I do noticed that these 2 models, even under the J7 2015 were made in 2016. Could it be that Samsung only considers phones made in 2016 to get Nougat?
yes me too waiting for my j700f.....still no update......j7 2016 got today....but nothing for 2015 edition
Upcoming Nougat update for the original J7 will be a seamless update IF your J7 already runs the marshmallow OS 'out of the box'. Simply put, this J7 release was made in 2016 with the 2Gb of RAM running Samsung Octo-core cpu @ 1.5 Ghz with NFC - i...