Panasonic Eluga is now available throughout Europe
It's been quite a while since we last saw Panasonic phones on the European market. Recently though, Panasonic announced the Eluga and Eluga Power droids, which come with IP57 certification for dust and water resistance.
The good news is the Eluga is already available in silver and black colors. It costs £365/€440 and you can have it right now. The device was released in Germany a few days ago.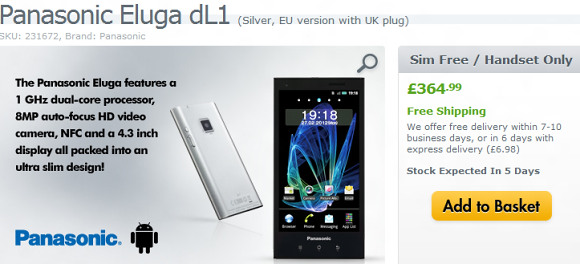 The Eluga is based on the TI OMAP 4430 chipset featuring a dual-core 1GHz processor and PowerVR SGX540 GPU. It uses a 4.3-inch OLED qHD display, an 8 megapixel camera and non-expandable 8GB storage. Panasonic Eluga runs on Android 2.3 Gingerbread but the 4.0 ICS upgrade is already in the works.
In case you are more interested in getting the Eluga Power (1.5GHz dua-core Krait, Adreno 225, 5" HD LCD screen, Android 4.0 ICS), you should know it is supposed to be released until the end of this month. We've already seen a pre-order price for it, too – £480/€585.
Superb, The other model is also very fine. Who knows standards of quality and long long durability of this brand, must be very please to see it again in market. Real glad to see pana, welcome back.
Sooo. . . Basically it's a Motorola RAZR in different wrapping and the CPU clocked DOWN, NO gorilla glass and the battery (1150mAh) is really for a feature phone??? IP57 does not help when you can get IP67 androids with usable batteries.