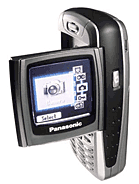 better than repeating a design over and over and over again... (gd88, gx88, x700)
if we are suppose to use it as a DV, why can't we have a better camera, an expansion slot, and a fucking better display... 65k can't even scare a fly.. watch samsung pound its ass
its a very very nice phone. I think i like this one better than the Nokia 3650/7650. i'll buy this for sure as soon as it comes out. Panasonic...please release this phone the soonest.Your the best!!!
amazing... panasonic are churning out the phones now... theyre getting better :D
Great phone, good on you Panasonic!

I like the idea of the camera being encased - sealed for protection... i.e. no scratches to the camera lense.

Very interesting phone.
what the hell is this pop up screen usefull for man, they are kidding?!!!?
Pop-up screen? What the hell is that for?? Innovative but I don't think it usefull. It seems fragile..
how can you say this is ugly?? its much better than those shocking nokia designs!!! damn this phone will rock and hope i can get one :P
Total of 295 user reviews and opinions for Panasonic X300.