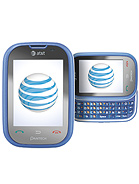 It first I liked it, but mine turns itself on and off, and than takes 5 minutes to "restart", its starting to be quite a bother
I strongly dislike this phone. The touch screen is terrible. I'm not a picky person when it comes to phones and keep mine for the full 2 years but I just can't stand this one. I've had it for 3 months and ever since the first week it's been annoying and stupid. I thought I just had to get used to it but the response just gets worse. Since there are no buttons, it's easily dropped. I dropped my old phone 4 times in 2 years and I dropped this twice UHF first week ( on carpet but point proven).
Pantech, 31 Jul 2010I work for Pantech and i hate this phonewhy? what is wrong with it? cause im thinking about getting it and if u dont like it i would like to know the cons.
Pantech, 15 Jul 2010I work for Pantech and i hate this phoneI bought this phone and I thought I could get it unlocked so I can use it with T-Mobile but for some reason nobody can find the unlock code. Do you know how I could get it? Thanks
Total of 31 user reviews and opinions for Pantech Pursuit.