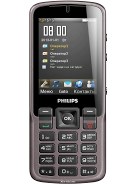 Great phone.

With 1 SIM card can work up to 1 month on one charge. A bit less with 3 cards (couple of weeks, depends on the amount of talking).

Flashlight. Everyone needs one sooner or later.

Problems.
1. Central button ring thing is not really convenient (Unless you have really miniature hands).
2. Bought mine in Russia, so I shouldn't complain that there was no Chinese language support... But now I'm in China, I could use one...
3
Please please please where can I get one? I'm all the way in Nigeria & I swear this is something I need, bad. Somebody help me.
No SPAM, no commercial advertising, no referal programs of any kind
No bashing - deliberately and repeatedly bashing the same brand
No trolling - deliberately antagonizing other brand/model users
Read before you post. Search before you post. Your question is probably already answered
Posting your contact info such as phone number or email is not a good idea. We won't be responsible for any unwanted consequences.
Bravo Philips! finally I get to see a triple sim functionality phone, not bad, actually it is cool to have one. But I'm expecting a triple sim functionality smart phone, by the way I salute Philips for this. Keep up the good work! and you all have a nice phone day.
Total of 5 user reviews and opinions for Philips X2300.