AT&T keeps a diverse eco-system of OSes and it's getting ready for Windows Phone 7 to join the party. The WP7 powered HTC T8788, which is bound for AT&T, was photographed sliding open to reveal a surprise.
The HTC T8788 will inevitably receive a more memorable name but it's got a feature that will make it even more memorable. It's a side-slider, so you'd expect a QWERTY keyboard to pop up when you slide it out.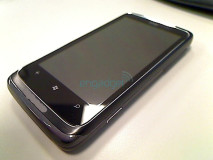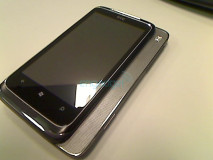 The HTC T8788 has a slide out loudspeaker
So, what does the lower half of the slider hide? A speaker - so the HTC T8788 should be one serious multimedia phone. It has a kickstand on the back too.
There's no info on pricing and launch dates yet.
How to connect my phone to computer. iam tried but only charge will be in raising, but not connected to phone.
How download the application of this phone plzzzzz reply any one .....
u like the phone because,is very smart and quick in doing more of staff.