Photos of HTC T8788 for AT&T show a slide-out speaker
AT&T keeps a diverse eco-system of OSes and it's getting ready for Windows Phone 7 to join the party. The WP7 powered HTC T8788, which is bound for AT&T, was photographed sliding open to reveal a surprise.
The HTC T8788 will inevitably receive a more memorable name but it's got a feature that will make it even more memorable. It's a side-slider, so you'd expect a QWERTY keyboard to pop up when you slide it out.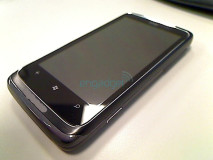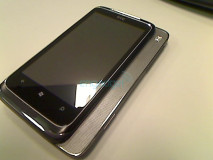 The HTC T8788 has a slide out loudspeaker
So, what does the lower half of the slider hide? A speaker - so the HTC T8788 should be one serious multimedia phone. It has a kickstand on the back too.
There's no info on pricing and launch dates yet.
How download the application of this phone plzzzzz reply any one .....
u like the phone because,is very smart and quick in doing more of staff.
Seems like this phone would be great to take on holiday to listen to your music tracks/radio on the beach or beside the pool, without using external speakers. If there is a decent size memory card with it, this would banish MP3 players to the bin for...