Samsung Galaxy Ace S5830 preview: First look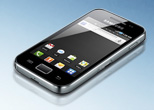 Well, you've met the family, now here is one of the new kids on the block. Midrange Froyo deserts for all it is, and the Samsung Galaxy Ace leads the gang. In an attempt to bring smartphone sales even higher, Samsung is ...
Note: Sponsored advertising links are in green.