S700 vs. 7610: Megapixel duel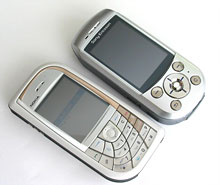 We took the same scenes with two megapixel camera phones, Nokia 7610 and Sony Ericsson S700, and compared the pictures. Which phone makes better photos? Which one features more settings possibilities?
Nokia 7610 is one of the first (together with Sharp GX30/GX32) widely available megapixel camera phones. We expect Siemens S65 coming up in August and Sony Ericsson S700 after the summer holidays. Ericsson S700 was available on the Sony Ericsson mobiles presentation and we made some pictures with the phone. For the sake of the comparison we took the same scenes with Nokia 7610.