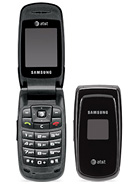 This is a great phone its a simple phone I have it and I trying to buy the blackJack
Anonymous, 23 May 2008omg I love this fone I would recomend this fone to everybody very simple only bad thing is no ... moreJust wait till the electronics fail, you can keep on restarting it by taking the battery out. Take any phone just not this on. Have had 2, both with the same problem. Was carfull with them, never dropped it, should have given it to the dog to enjoy.
Total of 4 user reviews and opinions for Samsung A117.