Samsung acknowledges Galaxy S III sudden death, fix is on the way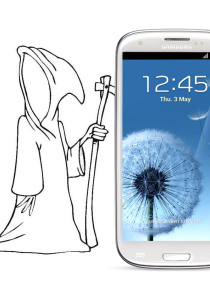 Throughout the last two months we've received numerous reports of Galaxy S III smartphones dying unexpectedly, usually overnight. Luckily those users who have experienced this trouble got their Galaxy S III quickly repaired (with replaced motherboards) or replaced altogether by Samsung.
Samsung has now officially acknowledged the issue, confirming to the guys over at Tweekers that a fix is in the works and will be arriving soon.
As it turns out the "sudden death" issue is affecting very small number of Galaxy S III phones with 16GB storage and appears about half a year after the initial activation. The device usually dies overnight while charging or when on long stand-by, or after a reboot.
There is no official information on when exactly Samsung will be ready with the fix, but we guess it will be shortly after the rollout of the 4.1.2 update completes.
my phone just died just like the others while it was getting charged overnight!!! its around 1 year old!! sent an email to Samsung but they want a purchase date which i do not have as it was a gift....can anyone help?
SGS3 I have this problem with my SGS3 now.. its turning ON & OFF.. like every second. It will turn ON the Off.. the ON & off... I can even scroll anything.. ON & Off every second! i have been using this for a year. Bought it w Glo...
I am faced with the sae problem, charged my phone overnight, used it briefly in the morning and the phone is completely dead. It is a massive incovenience.