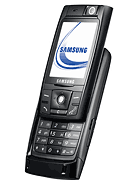 Hello!
Isn't this a 3G phone? Gsmarena doesn't say anything about this, although this has a front camera. Or is a swivel one? Anyway Samsung promised until now 2 Symbian based phones. They haven't released any of them. What's the problem? Can their phones handle Symbian?
If u want 2 discuss things related any mobile phone, u can reach me at andrei7110 (for yahoo messenger).
Total of 1462 user reviews and opinions for Samsung D820.