Samsung explains why Galaxy S and Tab 7.0 won't get Android ICS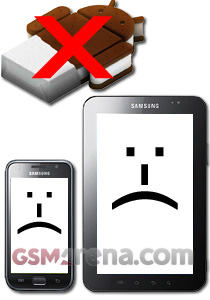 When Samsung announced the list of phones and tablets to get the Android Ice Cream Sandwich update, there were many questions of why certain models didn't make the cut. The original Galaxy S for one was quite a surprise, since the nearly identical Nexus S is already getting the update.
Samsung issued an official statement explaining why the the I9000 Galaxy S and the Samsung P1000 Galaxy Tab 7.0 won't get to taste official ICS.
Both feature Samsung's TouchWiz customizations which run pretty deep (they include things like custom widgets, video calling and so on), and they also have country-specific customizations (like the ISDB-Tb Digital TV tuner for Brazil) along with carrier-mandated changes.
All those customizations will not run smoothly on the older hardware if ported to Ice Cream Sandwich, with limited RAM and ROM storage pointed out as problematic.
Samsung's statement talks only of the Galaxy S and the P1000 Tab 7.0, but other Galaxy phones that are not on the ICS update list most likely suffer from similar restraints so they'll remain on Gingerbread too.
Of course, there are plenty of third-party ROMs available out there that will put an unmodified Ice Cream Sandwich (that is no TouchWiz) on your Galaxy droid - we already tried one out and it worked rather well.
I have been running a Jelly Bean mod for 3 months now and it works great! It is quite an improvement in stability and does not suffer from slowness.
Samsung don't give a crap. They know peeps will run out and buy their next phone & tablet anyways.
PLZZZZZZZ Give it da taste of honeycomb, ics 2 galaxy tab P 1000 ........ create a lighter version of ICS accordng 2 da specs of p1000 n galaxy s .......