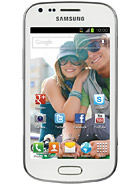 ?
Cant play any videos, music playback keeps breaking up and for someone like me who's always browsing, i have to carry my charger around. Really sucks...
?
used it for a week and i'm not impressed at all. performance is poor and the battery just awful
J
I got this phone in Canada, very immpressed with eth quality and spec of the devise, works fast and smooth with out any issue. Pic quality and sound is not bad, decent for a $200 value. Small, sharp and quick to react to my needs when I want the phone to be used. Not LTE but for thet value Im happy with it.
Total of 224 user reviews and opinions for Samsung Galaxy Ace II X S7560M.