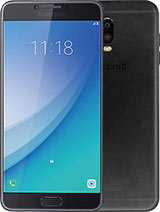 G
aaki, 02 Aug 2017Fast charging looks good. hope price should around 22k INR then i can consider it, otherwise ... moreThen redmi 5x is better .... and its about 300$ or less
a
Fast charging looks good.
hope price should around 22k INR then i can consider it, otherwise looking at G5S plus my next phone.
C75145
This phone looks like fail smells like fail and even its a rumour i think its a fail.
Looking at its specs it cant be anything else just one big fail.
R1029
lnly, 27 Jul 20175.5" super AMOLED 2850 mAh very sad.I agree with you totally I do not know what kind of stupid game these guys are playing with these phones but it's very sickening
J23
A Phone with 2850 mAh battery cannot be 7.9mm thick. It should be no more than 6.5mm. Otherwise this phone is a Failure, if the mentioned dimentions are to be believed.

T26423
need an explaination why would only 2850 mAh battery with 5.5' inch display
Total of 9 user reviews and opinions for Samsung Galaxy C7 (2017).