Samsung Galaxy Camera review: Half-press to play
GSMArena team
,
25 January 2013
.
Camera with OIS and 21x zoom
The Samsung Galaxy Camera is the most advanced shooter in the Galaxy line, it's practically a point-and-shoot camera with Android smarts. It can shoot 16MP stills with Optical Image Stabilization (OIS), up to 21x zoom and a powerful xenon flash (unlike virtually all phone flashes, this one is actually useful).
The Camera has a comfy grip and hardware shutter and zoom keys, the rest is on the large 4.8" screen - the biggest and highest-res viewfinder to ever be found on a digicam. The default mode is very simple - some indicators along the top of the screen (which can be expanded to access the basic settings), a still camera and video camera virtual triggers surrounding a Mode button on the right side and a gallery shortcut in the bottom left.
The Auto mode is good for most situations, but the Smart mode lets you get creative and helps you handle trickier situations. You can access Smart mode either by long pressing the mode button or tapping it and selecting Smart.
It's a grid (or carousel) of different modes - you get standard scenes here (Landscape, Macro, Action freeze), but also advanced features like burst shot and Best face (which snaps multiple photos, detects faces in them and makes a composite photo by picking the best face in each shot).
A Panorama mode is also available, as are some specialized modes that use slower shutter speed to capture a better photo - the standard Night mode, but also Fireworks, Light trace and Waterfall.
The images that serve as icons for each mode are very descriptive, so picking the right mode for the job is no problem at all, even for the not too tech savvy. The carousel view offers a one or two sentence description of the mode, including tips (e.g. "A tripod is recommended").
Finally, there's the expert mode, which gives you DSLR-like manual controls. This mode has an interface representing a DSLR lens barrel with several virtual rings that can be rotated to adjust a given setting.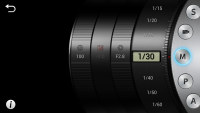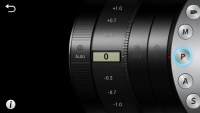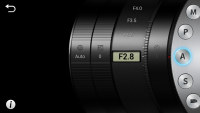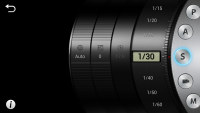 Expert mode - moving through the mode dial
There are several modes available - S (Shutter priority), A (Aperture priority), P (Program, controls the exposure compensation) and M (Manual). There's also a Manual movie mode, but we'll cover it later on.
Don't worry if you don't feel comfortable using these modes and rings - a tooltip will tell you what each ring does and you can also tap the Info shortcut to read a description of the modes and other terms.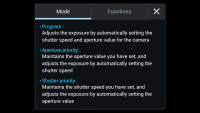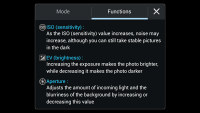 In-camera info on the various modes and terminology
We quite like this interface - it feels natural and it's easy to use. You can always keep track of what settings are selected at the moment thanks to the line of icons on the viewfinder. Settings you've selected manually are shown in red, while automatic settings are in white.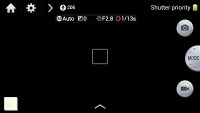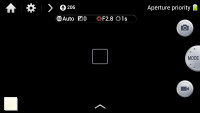 In Expert mode the interface shows the currently active settings
The Samsung Galaxy Camera leaves a lot to be desired when it comes to image quality. The biggest problem is the amount of noise that drowns out most of the fine detail. Images also have oversharpening halos combined with chromatic aberration. Color accuracy and dynamic range are okay, but the end result is disappointing for a 16MP digicam.
We took some photos with the Galaxy Camera and Galaxy S III to compare how the flagship smartphone does against the Android.-powered camera. One thing we noticed is that the Galaxy Camera lens is wider. The other was that despite having twice the resolution, the Camera doesn't do as well as the S III.





Samsung Galaxy Camera • Samsung Galaxy S III
Of course, the Galaxy Camera features 21x optical zoom, which is well out of any cameraphone's reach. The image quality actually improves as you zoom in and, at maximum zoom, you get a picture that no phone can offer, not even the Nokia 808 PureView and its own interpretation of lossless zoom.
The optical image stabilization becomes very important here - it keeps the image steady even at maximum zoom, so you can comfortably frame your shot and get good image quality in the end.
The xenon flash on the Camera is actually useful - it's rated at 2m and our tests show that it greatly improves low light photos of close by subjects (e.g. people at a party).
Photo quality comparison
The Samsung Galaxy Camera is the first Android-powered camera to enter our Photo quality compare tool. Here it is compared against two of the best mobile phone cameras, the Galaxy S III and Nokia 808 PureView.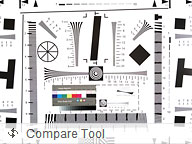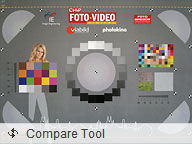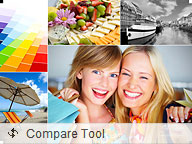 Samsung Galaxy Camera in our Photo Compare Tool
We have several digital cameras in the tool's database we use for reference. Here's how the Galaxy Camera does against a 2010 Sony point-and-shoot and an Olympus E-450 DSLR.