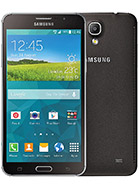 s
This phone is the replacement to mega 5.8 only, the reason why i am saying so is because mega 6.3 has a better screen than this waste of money.. mega 6.3 has air view function, IR/Remote function but this mega 5.9 doesnt have.. so i dont believe i can change my mega 6.3 for this crap..
r
I think this is the update for i9200 the 6.3, since it has only 1 sim card. just may be..
P
Guys, I think this is the follow-up to the Galaxy Mega 5.8. I bbelieve there will be a higher-end model around 6.3 to 6.5 inches full hd 1080p screen with better processor but same 2gb ram and camera. I'll be waiting for that to replace my OG Galaxy Mega 6.3
?
I have the Galaxy Mega 6.3. I love the screen size and was hoping for a bigger screen size for Mega 2. I am highly disappointed that Mega 2 will be 5.9. I can't imagine myself using anything smaller than what I am using now
N
The phone is a mid range phone with a big screen. It is made for people who watch content on their phone.
6.3 inches is fine, but 7 inches is better.
720p is fine, but 1080p is better.
With the bigger or higher pixel density screen, the phone would need a higher CPU and graphic chip, which lead to higher cost. It would be crazy to think that Samsung would push the price of their mid range phone so close to the price of their flagship phone.
M354
Can we have a Samsung Galaxy Mega with resolution of 2560 x 1600 pixels packed into 6.0 to 6.5 inch screen, Snapdragon 805, 3 or 4GB RAM, etc
h
wow! i'm been waiting for this! i will save money to buy this phone!....
L
Disappointed with new Mega 2. The cpu is quad core 1.2 GHz. A phone of 5.9" should have at least quad core 1.5GHz for midranger. You have to consider applications involved especially in the gaming area which will cause lagging. I think Samsung can do better than this for midranger.
m
This is completely speculation with nothing more than a benchmark result, some supposed leak documents, and more speculation. This listing does nothing good or beneficial in terms of actual information regarding the alleged galaxy mega 2 so why post it as though it's fact? The screen size, specs, and even the samsung labeling have changed with the various "leaks" or "documents". Any information on this page is speculative and should be taken with a massive grain of salt as of June 29, 2014

Mega
Total of 452 user reviews and opinions for Samsung Galaxy Mega 2.