Samsung Galaxy mini 2 won't be getting Jelly Bean after all
Contrary to Samsung's earlier announcement, the Samsung Galaxy mini 2 won't be receiving a Jelly Bean update due to not being able to ensure the "best user experience" under Jelly Bean, according to Samsung Mobile Spain.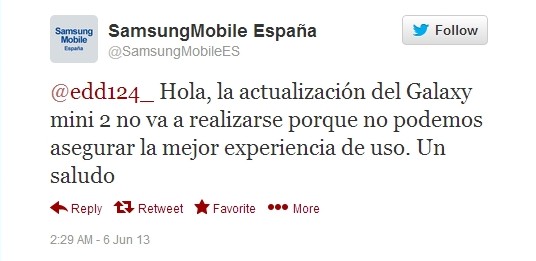 Understandably, this will upset a lot of people, many of whom are hoping to enjoy the latest Android version from Google on their Galaxy mini 2.
The Samsung Galaxy mini 2, released in March of 2012, runs on a single-core 800 MHz processor with Adreno 200 graphics, with a 3.27-inch 320 x 480 pixel display. It comes with Android 2.3 Gingerbread out of box, and unfortunately, it looks like it will stay that way.
Thanks, Dull, for the tip!
When i bought that phone i hope, il will be upgraded its android . that was my last samsung phone. my next phone will be a lg, acer, asus or htc
Agree. I bought it with the expectation it would be upgraded. NEVER again getting anything branded Samsung.
My samsung NL says that it isn t known if there will be an update