Samsung Galaxy Note 3 gets a bug-squashing update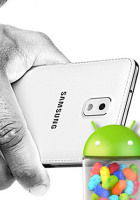 The Snapdragon 800-version of the Samsung Galaxy Note 3 is getting an over-the-air firmware update. It weighs 116MB and should be available to all SIM-free and unlocked N9005 models any moment now.
According to the official changelog the update brings stability improvements plus it turns off the re-activation lock, which requires you to input your Samsung account details after a factory reset of the phone.
Until today, this option was turned on by default and, while it added some extra security, it came as nasty surprise to those that didn't know it existed. If you want to reenable it, you should go to Settings -> General -> Security.
The new update also squashes many known bugs, including those related to the Pebble smartwatch accessory. The Samsung home-baked keyboard has been reskinned, too.
If you happen to have already received the update, drop us a line in the comments section, mentioning how you find your Galaxy Note 3 after it.
I got the update today for Octa version. So far I have noticed: Keyboard Skin, Faded Top Bar.
I got the update in Pakistan. The update fails over and over again asking for removing data cable, remove and reattach battery and turn on again and retry.
Got the update yesterday in Australia, 12/12/13, 116MB. First thing I noticed was the sound had more tone ie. it was not as high pitched or tinny sounding. I then noticed the keyboard skin. But I have noticed my phone is having a few more hanging iss...