Android Marshmallow is seeding to the Exynos-powered version of the Samsung Galaxy Note 4, with reports of the OTA arrival coming in from various parts of the world. So far, we've gotten tips from Poland, India and the US, and the screenshots below come from Turkey (though the device is running on a Polish ROM).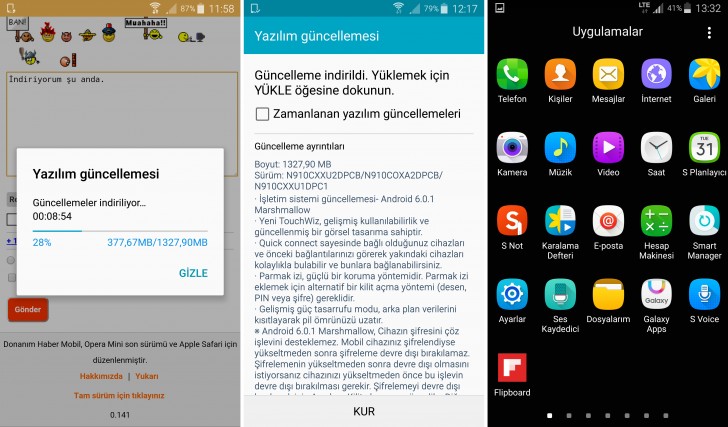 From what we gather, the firmware is in the whereabouts of 1.3GB (a little bit less than the Sprint Marshmallow build for the Note 4) and brings the OS version to 6.0.1. The users in the Turkish forum (source link below) report that the Screen off memo feature from the Note5 has been carried over to the Note 4 as well. And as you can see, the icons have gotten the same design as the ones on the latest Note.
We do have a Note 4 N910C at the office, but it is still on its trusty Lollipop 5.1.1, so we can't report first hand on the changes it brings. Hopefully, that'll change sometime soon.
Thanks to Kozgel, Kostas D., Ian, and Shahin for the tips!
Same here. Smart locked and still running lollipop....
Same as mine!!!! I tried and forced to update but it does not work!!!i really want the marshmallow update
My phone suffering from the similar problem. When the battery status goes below 35% then battery drains very fast and the phone signal also drops in some cases??? Any suggestion??? What should i do now??? Plzz help!