Samsung Galaxy R receives Android 4.0 update
Back in May, Samsung India had confirmed on its Facebook page that the Galaxy R will be getting the Android 4.0 update "very soon".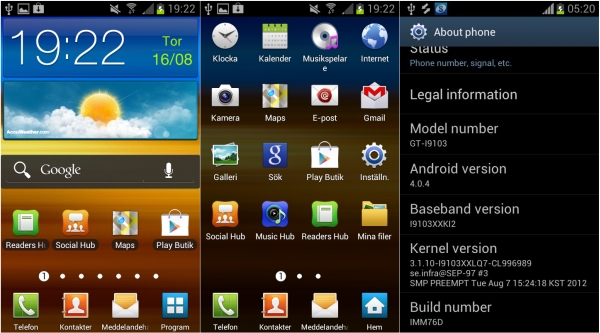 Well, it's been three months since but it seems now that the update is finally ready to roll out. One lucky user in Sweden managed to get his phone updated to the (not-so-latest) version of Android after he received it from the service station.
The fact that the service station people are installing the update on devices means that it is in the final stage and will hopefully will start rolling to other handsets shortly.
As before, this is the TouchWizzed version of Ice Cream Sandwich, which means unless told you won't even know the difference from the current Gingerbread ROM based on the UI alone. Still, it does bring with it significant performance update, which should be apparent to anyone who is used to Gingerbread.
If you feel like trying the leaked ROM yourself, you should follow this link for the necessary download files and instructions over at this thread.
Source (Thanks Clament for the tip)
Hi recently i have recieved sms for airtel sevices that latest android version 4.2.2 is available for your samsung device. what is it. is it available officially????? can anybody suggest.
Hi Rahul, From where did you get ICS update files, can you forward me link? Thanks, Bhasker
Hi Got ICS & updated in Phone ,but phone goes Bit Sluggish & found some issue while Open Gallary , Message & contact List .....