Samsung Galaxy S7 edge Dual Pixel autofocus tested against that of Canon 70D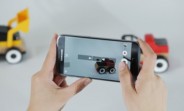 Well, here's a very unscientific but still demonstrative test of Samsung Galaxy S7 edge's Dual Pixels autofocus system. This fellow from Thailand put the S7 against the Canon 70D, a DSLR with its own Dual Pixel AF system (which reviews show is faster and more accurate than traditional Phase Detection AF).
Here's a video of the two cameras, S7 edge and 70D, keeping track of fast moving objects. The difference in speed is tangible.
And here's the same test in the dark. Things are moving too fast to really tell, but the Samsung Galaxy S7 edge seems to have an edge in image quality as well as focus speed.
You can read how Dual Pixel autofocus works and see our own test of the S7.
Thanks to THE-DEVIL (oh my!) for sending this in!
Yeah! You nailed it spot on. Educate those fan boys.
You mean the 70D has a way LOWER depth of field.
One of the reasons samsung does better is because its sensor is 1/20th the size the canon 70d. This means 70d has a way higher depth of field and hence it's harder for it to focus. It still does pretty well compared to other bigger sensor cameras. ...