Samsung I8000 Omnia II review: A surprising experience
GSMArena team
,
28 August 2009
.
Still waiting to become a GPS navigator
The Samsung I8000 Omnia II features a built-in GPS receiver with A-GPS support. The assisted GPS allows for much faster satellite lock upon cold start thanks to current satellite data downloaded over Wi-Fi or the 2G/3G network. It does however achieve great results without it too - the warm start time being less than fifteen seconds and the cold start hardly exceeding a couple of minutes.
With its huge 3.7" display the I8000 Omnia II has the potential to be a very cool GPS navigator. Unfortunately there is no navigation software preinstalled on our Omnia II, but as far as the official Samsung specs go, they shoud be offering that at least as an option if not as a standard feature (we guess their Samsung Mobile Navigator by Route66).
We downloaded and tested the free Google Maps app just to see if the GPS would have any issues with a third party app. Google Maps had no issues recognizing the receiver also we guess using it with a third-party app of your choice will be as easy as cake.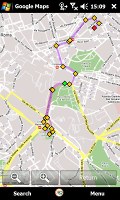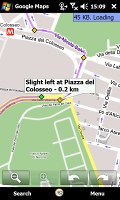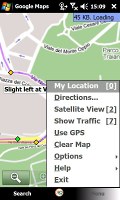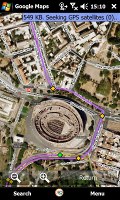 Google maps on Samsung I8000 Omnia II
Motion gaming is on board as well
There are four games onboard the Samsung I8000 Omnia II. The first two are the all too familiar Windows Mobile Solitare and Bubble Breaker, while the other two are quite more interesting.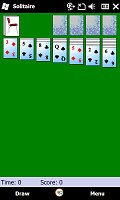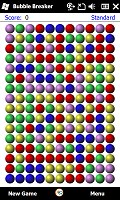 Solitaire and Bubble Breaker classics
The Asphalt 4 racing simulator is one of the 3D games the Omnia II is marketed for having. Asphalt 4 offers accelerometer based-controls - you tilt the phone for the car to turn. The controls are responsive enough to provide decent gaming experience. And if motion-gaming isn't your cup of tea you can still control your car by simply tapping on the screen.
Crayon Physics is a 2D physics puzzle game, in which you get to experience what it would be like if your drawings would be magically transformed into real physical objects. You need to solve a series of puzzles, showing good knowledge of the physics laws.
Final words
The Samsung I8000 Omnia II is certainly a device that is hard to match, let alone beat and that much is clear with just a cursory glance at its specs. It also carries the aura of a new OS version pioneer, which in itself is enough to generate excitement. But that can hardly be a selling point as all recent HTC devices have also been promised free WinMo 6.5 updates one the things gets out.
The thing that caught our attention the most is that the handset has the performance to cash all the checks that its specs are writing for. Virtually every part of the once sluggish and boring looking WinMo interface has been overhauled: it is now pleasantly designed, fluid and responsive to such a degree that it might rival most of the other touch-centric platforms out there.
Now add the vast amount of software available, which has always been one of the strongest selling points of the devices powered by the Microsoft OS, and you get yourselves a really nice package. And let's not forget the smooth design, by no means a small issue in this handset's many features.
The closest that the market has to offer to the Samsung i8000 Omnia II is the HTC Touch HD. It packs a slightly larger screen but some users might still prefer the AMOLED charm of the Omnia II. Besides, the Touch HD runs on a slower 528 MHz CPU and it isn't yet cleared for a WinMo 6.5 update. And truth be told, the Samsung Omnia II is just on the verge of becoming the burden for single-handed usage that the Touch HD already is.
No one should forget the HTC Touch Diamond2 either, though it doesn't even come close to a 3.7" AMOLED screen or an 800MHz CPU. However at this stage the HTC champ has a more attractive price tag and that combined with the time-tested TouchFLO 3D UI might be enough to keep users interested. HTC devices usually have a wide user base and there are some quite strong communities of HTC users always ready to give you a tip or help you tweak your gadget.
Another pretty interesting Windows Mobile offering is the Toshiba TG01. It packs an amazing 1GHz Snapdragon CPU and a huge 4.1" touchscreen. Yet somehow we feel that its dimensions (except for the thickness) have crossed a certain line and make usability a problem. The higher price and the relatively limited market availability are also hurting the TG01 chances in this battle.
Looking outside the WinMo world for a moment shows us some more competitors to the Omnia II. The Symbian-powered Samsung i8910 Omnia HD offers an almost identically-sized screen, although of lower resolution, but makes up for it with impressive imaging and mostly video recording performance. However the touch experience provided by the Omnia II seems quite better than the one that of its Symbian cousin.
Finally, we come to the omnipresent iPhone 3GS. Packing a less impressive camera and some peculiar limitations such as no Bluetooth file transfers, for instance, the Apple device still remains THE thing to beat when talking touchscreen experience. Its applications database is also pretty impressive.
We guess that once the Samsung Omnia II price settles down there will hardly be any serious contender to its looks and performance. Samsung are clearly targeting a large chunk of the HTC market share and from what we are seeing it might just have the resources to get it. The original Omnia was the first bullet in this war but now the South Korean company is bringing out the big guns.
The Samsung i8000 Omnia II and the Samsung B7610 OmniaPro match and even exceed what's out there right now, and along with their lower-end Omnia siblings look set to make the next step to achieving domination in a territory where Samsung traditionally didn't venture. Now we might not be the greatest of prophets but if the rapid improvement continues we cannot see anyone stopping them.