The Samsung I9500 Galaxy S5 received Android 5.0 Lollipop early this year, a hefty 1.05GB update. Now it's receiving a smaller update, which keeps the Android version at 5.0.1, but Samsung KNOX goes from version 1.0 to v2.0.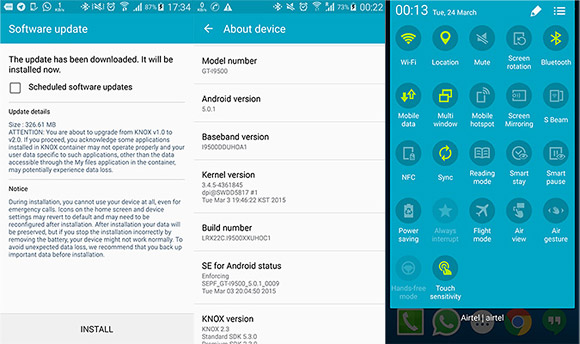 Another change is that the Silent mode returns. Lollipop removed that option, but Samsung has been reintroducing it, the Galaxy S5 got an update to bring it back a month ago.
Anyway, the new Galaxy S4 update is getting pushed out in India currently and it weighs 327MB. There's no complete changelog so it's not clear what other changes it brings.
Using odin mode you can update i9500 to lollipop 5.0.1. Links are in google & XDA
How me update new android version in my samsung s4
Hi, my phone Samsung Android 4.3... Had it for about 1.5 year. About 4 months ago an update happened and now every time I restart it a black screen with white letters appears and I haven't pressed the "install" button, instead I press "cancel" or the...