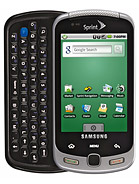 I love this phone have had it for a year and a half now working great but upgrading to the galaxy s4 on august 1st
this phone is so bad ive gotten it replaaced at least 3 times fed up and overall terrible product
Can someone tell me how's the quality of the photos made with this phone?
I've actually had this phone and its amazing!! They took it of the sprint market because a lot of people had problems with it. Sdx-developers.com really helped me bring to life everything this phone is capable of. The stock frequency usually runs above 600mhz limiting its capabilities but my setup is: Titanium-X ROM v1.6 w/ JIT, RFS2EXT2, Inxane's 0.6.2 kernel and de03 because dj07 has a lot of problems. All these things have made my phone amazingly fast and i'd prefer this over a transform anyday. Its super customizable like I could change my boot animation or change the stock sprint theme to a theme the developers at SDX have created and I could change the boot logo so instead of it saying "samsung" it says titanium-x with the little android robot glowing blue. Great phone!
Total of 10 user reviews and opinions for Samsung M900 Moment.