Samsung outs Android 4.4 update for Korean Galaxy Note 3 Neo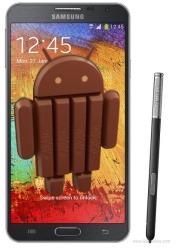 Samsung Galaxy Note 3 Neo, the budget version of the Note 3 is now receiving the latest Android 4.4 KitKat update in Korea.
The newest update pushes the firmware to version N750SKSU1BND3 and brings all the standard Android 4.4 KitKat features such as faster performance, wireless printing support, full screen album, new camera shortcut, white status bar icons, enhanced sound controls, default home and SMS apps and stability improvements.
The KitKat update is already rolling out in Korea and might soon be available in other regions. All the Korean variants will get a prompt and in case you missed it, you can manually check for the update by visiting Settings > General > About phone > Software updates.
I need update for korean samsung galaxy note 3 update software.
Yes, i buyed a korean copy samsung galaxy note 3, actually now , the problem of my phone is: 1. Screen - when i stock and off my phone for a week, when i open it , it has so many lines in the screen. A few days , there are more lines appeared in my...
how to i update my keoria phone galaxy s5 I am waiting for new version