Samsung SM-G892U gets WiFi certified, could be global Galaxy S8 Active
A new Samsung smartphone has been certified by the WiFi Alliance (WFA). The listing reveals the device carries a model number of SM-G892U, and runs Android 7.0 Nougat out of the box.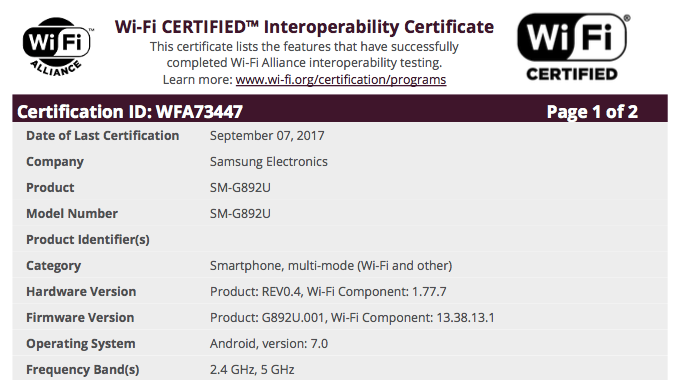 The model number (SM-G892U) is similar to the one that the existing Samsung Galaxy S8 Active carries (SM-G892A). So it's quite possible Samsung is preparing to launch a new variant of the S8 Active.
The 'U' towards the end of the model number further hints that the SM-G892U could possibly be the unlocked global Galaxy S8 Active model - the initial S8 Active, as has always been the case with Galaxy S Active series phones, is AT&T exclusive.
Sadly, there's currently no official information available about the SM-G892U, so there's more waiting to be done until we get the full picture.
Apparently this is the first Phone with Bluetooth 5.1 .
Wrong, unlike the S8 the active does not have any kind of edge display, its kinda like the LG G6 but bigger and chunkier.
The perfect flagship is the LG V20 (okay, not perfect, but it has the least compromises). It's much better than LG V30, Galaxy S8 and Note 8. Because V20 has better features (removable battery, IR remote, FM Radio) and better design (flat screen, pro...