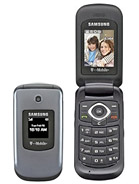 g
i need a code to unlock my phone i brought it in u.s.a,im living in jamaica
D
Cheap phone you get what you pay for, I got it brand new for $14.99 after a rebate coupon. Not bad sound quality and other functions, bluetooth works. The biggest caveat which effects the phone on a whole is the signal strength, it's terrible and I had several dropped calls due to it. Indoors the phone loses signal strength easily, even outdoors it struggles to get 2 bars. I would not recommend this phone and have owned other Samsungs in the past that worked better, will probably avoid Samsung phones in the future.
T
Used it for few days. Its a OK phone, ear piece volume
is less, cannot hear well if u r at bus stop. speaker phone is better. Nice non-slip rubber key pad. Flip design needs some improvement. Good front display with date, day & time. Signal strength indicator keep varying all times even if you do not move [from 5 to 2 levels suddenly]. Talk time is abt 4hrs only.

Pros : Good basic phone, non-slip Rubber keypad. good battery. Good speaker phone.
Cons : Low ear piece volume. only 300 entries.
o
I like it very much.. but does it work in Europe because I want to use it there ?
?
The bluetooth does not work. It does not have any visibility, therefore, no other bluetooth cannot pick it up.
?
It's a fine basic phone. Reception is no worse than a Motorola RAZR.
T
in 1 word...TOTAL crap. at best you get 2-3 bars, and very often drop calls.
T
in 1 word...TOTAL crap. at best you get 2-3 bars, and very often drop calls.
?
Though it doesn't have many features, the clarity of the phone and battery life is great.. It does what it says it does.. A great phone for just normal phone use and text.
Total of 34 user reviews and opinions for Samsung T139.