Samsung ultra slim SGH-X820
For the Sviaz ExpoComm 2006 in Russia (10-13 May) Samsung will present their ultra slim phone SGH-X820.
The new bar phone is only 6.9 mm thick, but there is a hump on the top of the phone which makes it a bit thicker in that part. Samsung X820 will feature a 2 megapixel camera with video recording, MP3 support, EDGE, Bluetooth connectivity and TV-out. The slim phone has 80 MB of internal memory and weighs just 66 g. It will hit the European markets (including Russia) in a week. In June it will be available in China under the SGH-X828 name.
Samsung also announced the SGH-D900 model, but no pictures are published so far. D900 will be a slim slider (13 mm) with 3 megapixel camera, QVGA display and microSD card slot.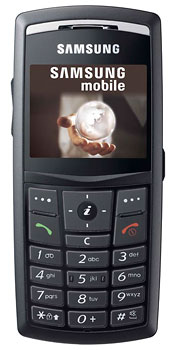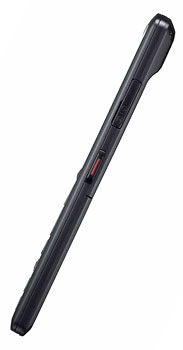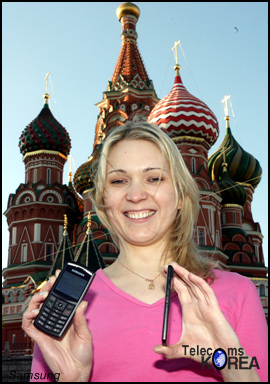 Samsung press release
SEOUL, KOREA, - May 9, 2006 - Samsung unveiled the first in the upcoming series of Samsung's ultra slim line-ups. The Samsung X820, which will be displayed for the first time at the Sviaz ExpoComm 2006, boasts the world's thinnest profile of only 6.9 mm. Also on display will be Samsung's D900, the world's slimmest slider with the depth of only 13mm.
Samsung's growing portfolio of ultra-slim phones is part of the company's aggressive global strategy in the slim phone category, demonstrating Samsung's promptness to recognize and acts on consumer demands. Samsung truly delivers smaller and thinner mobile phones without compromising reliability or premium multimedia capabilities.
Samsung X820 - World's Slimmest Phone
Samsung's groundbreaking X820 expresses Samsung's devotion to creating the slimmest product for the market today. Weighing only 66 grams with slender 6.9mm thinness, the lightweight X820 is today's modern method to stay connected. The X820 balances slim elegance with a functional keypad and finishes with a beautifully beveled cut for a natural grip. The fiberglass-infused plastic is used to increase extraordinary durability while keeping it lightweight. The X820 is the true complement to today's active consumers as it becomes one with the users in their wallets, shirt pockets, or a pair of jeans for mobility in style.
Underneath its protective outer shell, the X820's a wealth of features are compressed into the 6.9mm thinness using the Smart Surface Mounting Technology (SSMT). Capture those bright smiles and specials moments using the 2 megapixel camera or pull of a great presentation with the document viewer and TV-output function. Maximize the visual experience with the horizontal widescreen and navigate all of these features and more with a simple and user-friendly interface.
With a variety of color ways in the making, the X820 will first hit the Russian market next month, followed by other European markets.
Samsung D900 - World's Slimmest Slider
Samsung's SGH-D900 offers the latest in multimedia technology with premium slide-up design for business professionals. The 13mm slide-up is the thinnest slider ever designed. It also comes with a powerful 3.13 megapixel camera, starting the 3 megapixel camera phone trend for the European mobile market this year. The SGH-D900 also includes business features such as document viewer, TV-output function, and also supports Bluetooth stereo headset (A2DP) function to enhance users'multimedia experience.
The D900 also boasts large, vivid 262K color screens, ideal for watching streaming videos or viewing the phone's photo book. Also, an external microSDTM slot allows for additional storage.
a minus is that ecran isn't big
Hello! I just purchased the SGH-X820 which truly is a beautiful phone! I just transferred my service to T-mobile and have the text message and internet plan. I am a bit frustrated because I am unable to send/receive Multimedia text messages...
how do you get to use this??