Samsung US announces KitKat update plans, rollout starts today
We have some great news for the Galaxy users in the USA! Samsung has announced the list of devices which will be updated with Android 4.4 KitKat. More than 15 Galaxy smartphones, phablets and tablets will get the KitKat treatment over the upcoming months.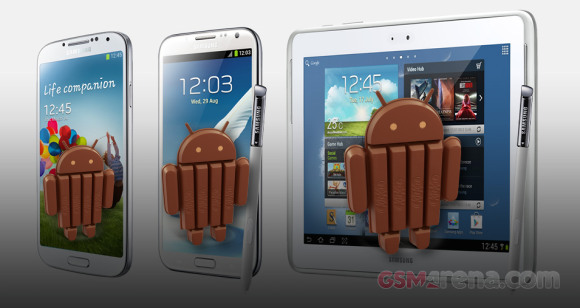 Samsung is developing Android 4.4 KitKat firmware for these smartphones:
Samsung Galaxy Note 3
Samsung Galaxy Note II
Samsung Galaxy S4
Samsung Galaxy S4 mini
Samsung Galaxy S4 Active
Samsung Galaxy S4 Zoom
Samsung Galaxy S III
Samsung Galaxy S III mini
Samsung Galaxy Mega 6.3
Samsung Galaxy Light
And here is the list of the KitKat compatible slates:
Samsung Galaxy Note 10.1 2014 Edition
Samsung Galaxy Note 10.1
Samsung Galaxy Note 8.0
Samsung Galaxy Tab 3 7.0
Samsung Galaxy Tab 3 8.0
Samsung Galaxy Tab 3 10.1
The Android 4.4 KitKat firmware will speed up your Galaxy device, bring you new Hangout app which you can make the default messaging app, new location menu, other UI enhancements (new icons, monochrome status icons, etc.). We hope the Galaxy tablets will also get the new Magazine UX, which we really liked.
The availability and launch date will vary by carrier, but eventually all those devices will end up with update notifications. The official roll out starts today, probably with the most recent devices, and the entire update process should take a few months to complete.
I am using samsung galaxy s duos 2. Please provide android kitkat 4.4 upgrade. It's a request. Heard that kitkat version will give more battery back up. Good function etc. Dear sir please accept my request REGDS.
respected sir,,, please provide an 4.4 update for s duos 2......as soon as possible.....we all are waiting/ eagerlly for it...........