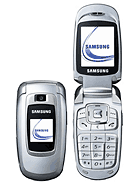 its a good fone!!!it has evrything u want..the downside is the memory..its only 18mb..but its really great...
i think that samsung mobile is super super super super super super super super super
I like this phone and would like to know about the Video camera, does it play recordings or only music video's. Thank you
hi seems like its not saving my sent messages at sentbox folder..please let me know how i cud make it work thank u
i was saving 4 months to buy da phone..FINALY! im getting it sooner than weekend!
Can anyone tell me some more about the X670? How is the batterie? The camera?
A real beauty from Samsung!!

This phone is ideal for people who need a deecent phone.
Here in Belguim it cost €199

Music player is goood!

Hi, I'm really interested in buying this phone, but there is not enough opinions. Can more people please reply on this phone? Thanx.
Looks like a nice phone, other bottom of the range phone (especially from Motorola) have way more features. Compare this modle to the Motorola V360i...that's bottom of the range and yet has more.
Total of 34 user reviews and opinions for Samsung X670.