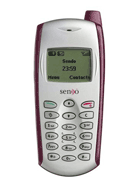 this phone is incredible!!! what a beauty! best phone out atm, what more can u want??
its a very nice , low budget people`s phone . look too small and having a reception .

wanna ring tones 4 your s230,s200,p200,s300,j520,j530...... 4 free!
so go to this site www.mrtones.com select as nokia 3310 then use the composer in your handset & compose the imelody as it appears in the graycolor letters
ENJOY IT!
Can you send me please a big picture so that i can better see phone very much thanks.
Buddy Rocked.
cherche toujours à acheter un Sendo S 2OO mais toujours pas de réponse à ce sujet,pourquoi???
Total of 15 user reviews and opinions for Sendo J520.