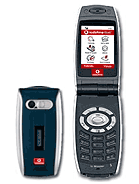 M
i would like to know, where is made in?i could not find it in official sharp website:www.sharp-mobile.com
?
this brand is called "xera". it is made by sharp but it is not sharp. visit their official wedsite...www.xera.com.
R
Phone was brought out after gx30 to try and match samsungs small size but to also incorporate Bluetooth. GX30 and 20 are big, fat phones, this one isn't.
t
Nice phone! Does anybody know how much internal memory this phone has because Sharp is known to have a little inter. memory?? Can it use memory cards?

f
gr8 phone all you would ever need and more and no cumbersome bit sticking out the top :-)
J
May i know is it in Malaysia???
This phone look nice , no.. is great...
s
OMG- this handset looks sick!!! I've got the GX22 now and I'm wondering why the GX25 has been added now...
I'm a bit confused why it's after the GX30, or did it actually come out before the GX30?
Anyone know? looks very nice but!


Total of 389 user reviews and opinions for Sharp GX25/GZ200.