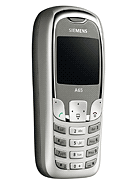 M
i will buy this tomorrow n i hope pics of it can be understandable...
j
Siemen A65 is a best fon.... I want to buyu that fon..... The hp is so mahal................................
Z
Do you have any info about this phone's memory? Does it have 10.23 MB also? Like the other 65 series???
?
if nokia did this you would bitch about how shit they are, they suck, shitty screen, no blue tooth. When will people wake up every company has to make low end phones, even nokia
P
Nicer than the predecessor, the A60, i like it, great features, for a low price!
Total of 174 user reviews and opinions for Siemens A65.