Skype for Android updated, becomes Galaxy S compatible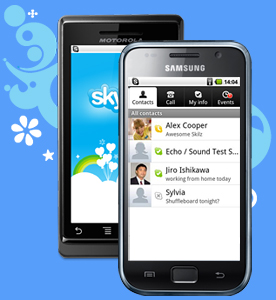 The Android version of the popular Skype app was first launched only a couple of months ago and now we can welcome its first major update which makes Skype for Android fully compatible with the Samsung Galaxy S devices out there and allows you to store the app on the device's SD card.
The recently updated Skype app for Android-powered devices brings along only two improvements but those are definitely worth mentioning. First off, if your smartphone or tablet is based on the Froyo, you'll be able to store the app on your microSD memory card.
As for the other novelty brought by the refreshed Skype app, the version released back on 5 October had some issues with Samsung Galaxy S smartphones but those should now be done with.
Oh, of course, there is a tiny little catch: the latest version of the Android-loving Skype will only be compatible with your Galaxy S if it's running the Android 2.2 a.k.a. Froyo (or higher).
To get the new Skype app up and running on your device, just visit skype.com/m using its web browser or check the Android Market.
I downloaded Skype successfully but was having hiccoughs so I uninstalled it & tried to reinstall it, no luck, it tells me 'no storage' which is not true. I understand it leaves a 'directory' behind which prevents it reinstalling!! Please how do...
Firstly i deleted skype app for beter skype app,butt i tried lot of time but no succes. In the last one message apear on screen " there is insuficiant memory" but in my fone glaxy s lots memorys available.how i can download skype on my fone
Why cant i use skype as a video phone?