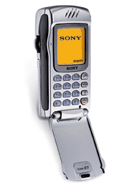 superb phone i have it since 2 days i can say to you that i love it i firstly wanted to wait for ericsson t65 but i felled in love with sony the menu is just incredible before i had a nokia 8210 i can say to you that sony rules with ease !!
i think that this is a nice fone BUT its far to thick! sony made a fne before that which was the z28 and that was 18mm thick....and y is the new sony so thick, i can understand cos that there is no antenna but that shouldnt made it much of a proplem should it?!?! raahhhhh..........
Another very neat set from Sony....but another big disappointment too - for all the impressive Gizmos the phone lacked INFRA-RED port...when will Sony learn. I was a Sony fanatic before (Used a CMD-Z18), and now I am not. I blame Sony for forcing me the painful switch to a different brand just because I needed an Infra-Red phone. Some models which are much more primitive than Sony at least took the trouble to equip their handsets with Infra-Red. Please Sony, open up your eyes!...
Total of 247 user reviews and opinions for Sony CMD Z7.